Toronto Travel Guide, Toronto Tours & Vacation Packages
The capital of Ontario, Toronto is a major Canadian city located right alongside the north-western shore of Lake Ontario. The city has soaring skyscrapers, and it is a dynamic metropolis.

Toronto has so many attractions for visitors, and it only keeps on adding every year. Some of the city attractions include the CN Tower, Ripley's Aquarium and Art Gallery of Ontario. The great part about Toronto is that there is something for everyone here, from parents to kids.

The motto of Toronto is "Diversity is our strength," and this motto is seen all throughout the city on "Welcome to Toronto" posters, in different languages.

We also provides lowest pricing on cheap flights to Toronto

If you want to explore more on Toronto's neighborhoods, You can check it out here: Where to stay in Toronto
When to travel to Toronto
Late spring to early fall is the best time to visit Toronto since the weather is pleasant here and there are many outdoor activities organized during this time including music festivals and open-air dining.
Transportation in Toronto
For transportation, there is an underway subway system, buses, and streetcars. You can also opt for licensed taxis, Uber, or any other taxi service.
Toronto Weather
In Toronto, July is mostly the hottest month with average temperature being 70°F (21°C) and the coldest month is January when the average temperature is 28°F (-3°C).
Currency
Currency is Canadian Dollar (C$). If you carry US dollars, you can exchange at any bank.
Awesome Tourist Spots / Events / Festivals in Toronto:
Toronto Zoo
Opened back in 2013, Toronto Zoo is divided into several sections, each representing a different region of the earth. There is also a big Panda exhibit.

Casa Loma
Casa loma is one of the Toronto's landmark and museum and is owned by the city. It is a great place to spend time with family and friends. There is a very nice restaurant in the basement.

Art Gallery of Ontario
This stunning art gallery includes several important African, European, and Canadian work of art. The museum also has a large number of renowned Canadian paintings.

Rogers Centre
This mega stadium was built to accommodate all the sports needs of the city.

Royal Ontario Museum
Being one of the premier museums in Canada, Royal Ontario Museum is where all the internationally acclaimed exhibits are held.

CN Tower
One of the most famous landmarks of Toronto, the CN Tower is 553 meter in height, and it can be seen from anywhere in the city.

Toronto International Film Festival
This film festival which was started in 1975 has quickly gained recognition all over the world, so much so that it is considered second to Cannes.
Toronto Cider Festival
This festival showcases the best of cider which is created in Canada itself.
PRIDE Week Toronto
The Pride Week in Toronto is a 7-day long event which celebrates the LGBTQ community, and people rally for equal rights.
Distillery District Christmas Market
This is a special market which is organized every year around Christmas. A perfect place to pick up last-minute Christmas decorations and gifts.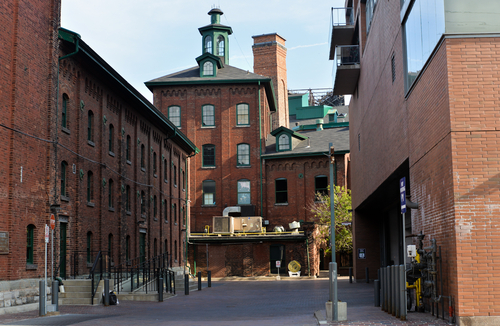 Culinary Adventure Company
Owned and operated by talented chefs, this place delivers the culinary and historical diversity of the entire city.
Centre Island
Located between Ward's Island and Hanlan's Point, Centre Island is just a short ferry ride away from Toronto, and it is a great way to spend your day.

Canadian Stage
This is a Canadian NGO that supports contemporary theaters and artists.
Aga Khan Museum
This museum is dedicated to Islamic and Iranian art, and Muslim culture in Toronto.

The Best Hotels for a stay in Toronto:
Thompson Hotel
Templar Hotel
Soho Metropolitan Hotel
Shangri-La Hotel Toronto
Ritz-Carlton Toronto
Park Hyatt Toronto
Old Mill Spa and Inn
Hyatt Regency Toronto
Hotel Le Germaine Maple Leaf Square
Hôtel Le Germaine Toronto
Hazelton Hotel
Four Seasons Hotel Toronto
Fairmont Royal York Hotel
Drake Hotel
Restaurants full of Mouthwatering Dishes:
Byblos
Buca
Biff's Bistro
Beast Restaurant
Bar Raval
Bar Isabel
Alo Restaurant
Check our youtube video on things to do and places to explore in Toronto:
Schedule and pricing
We offers cheap tours packages to Toronto. The pricing is in CAD, and we negotiate the best deals with our suppliers so that you receive only the lowest price possible.